Blog
Thinking of Moving in With the Kids? Here's something to think about… posted on the 6th November 2018
For some, moving in with their kids is the best option as the retiring years creep up on them.  However before any decisions are made, it's important to do your homework to see how it will affect things both financially and legally. Here are a few points that you need to consider…
Granny flat issues: What you need to know before moving in with the kids
Starts at 60
3 November 2018
An increasing number of seniors are forgoing retirement villages and aged care facilities and instead opting to sell their homes and move in with their kids, a prominent lawyer has revealed.
The idea of granny flats has become all that more appealing for a growing number of pensioners who are struggling to get by with limited personal savings and government support.
Speaking to Starts at 60, CRH Law lawyer Brian Herd said moving in with children for some is the only option and on the surface seems like an attractive alternative to conventional residential aged care.
"In many ways it is a back to the future trend because before the 1950s it was what most families did until the church and charitable sector started to build what was then called 'convalescent homes' now called aged care facilities," he explained.
While there are many benefits to granny flat living, including living in a familial environment, getting support from people who you know well and trust and saving on the financial cost of traditional aged care, Herd said there are plenty of legal and financial issues to consider before making the move.
According to the lawyer, many people jump into the arrangement before really thinking about the implications of the situation, including how it might affect their pension and their relationship with their family. Some experience a loss of independence and freedom as they try to adapt to the new way of life, while others struggle to get along with family members or find themselves turning into in-house baby sitters.
In order to avoid any potential family rifts and keep the transition as smooth as possible, Herd suggested seeking legal and financial advice before the arrangement is entered into and getting everything in writing.
"The beauty of documenting is that it forces the family to identify and confront the issues that need to be addressed, both the upsides and the downsides of the arrangement," he said. "A document can also help in being open and transparent with other members of the family helping everyone to get on board."
Another point to consider is how any financial arrangements made between parents and children may impact on wills and who is entrusted the role of the Enduring Power of Attorney (EPOA). According to Herd it's often unwise to have the son or daughter you're living with as your EPOA.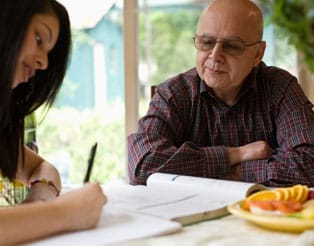 Retirement lawyer Richard McCullough echoed Herd's views, stating how important it is to consider if moving into a granny flat will impact pension allowances and other government benefits.
"If you're a pensioner you need to think very carefully if what you're proposing will be a financial asset thereby diminishing your pension," he told Starts at 60. "If you are a pensioner, what you're doing may or may not trigger the asset test or income test. You need to ascertain that to avoid nasty surprises."
He added that it would be helpful to set up what's known as granny flat interest, where you pay a certain amount for the right to live in a specific home for life. A granny flat interest payment typically ensures your pension won't be affected and often comes with the proviso that you will be provided with care and support while living there.
The legally-recognised payment can be made a number of ways. The most common are paying for the construction of a separate dwelling on a property owned by your child, financing renovations or extensions to an existing property where you will live, or selling your own home and buying a new house for you and your child to live in.
"While [a granny flat interest payment] won't affect your pension, it has to be done very carefully," McCullough explained. "Even though your pension may be preserved, if you want to or have to move out there can be difficulties getting your money out.
"If your child is mortgaged to the hilt, they may not be able to remortgage and you could potentially be left high and dry."
Would you consider moving in with your children?
Think a granny flat might be the best thing for you or your loved ones? 
Call the experts, we'll help you to make it happen!
Sonia Woolley
0403 309 136
Written by
Sonia Woolley
Popular Posts
Recent Blog Posts
Categories