Blog
MINIMUM STANDARDS for MINIMUM SPACE – THE RISE OF THE MICRO APARTMENT posted on the 6th January 2015
Ipswich Granny Flats bring an interesting article on Minimum Standards for living space …
Minimum Standards For Minimum Space- The Rise Of The Micro Apartment
Theurbandeveloper.com
17 December 2014
As inner-city housing becomes increasingly unaffordable, homeowners are becoming more creative with the space they can afford. However Australian state governments are less than impressed, with many of them implementing minimum standards on apartment sizes.
Nigel Hobart, principal at firm ROTHELOWMAN, told The Financial Review that a well-designed 40-square-metre apartment can have greater amenity than a poorly designed 60-square-metre apartment.
"Good natural light, acoustic performance and ventilation are all important parts of amenity.
"But if people want to buy a south-facing apartment in the inner-northern suburbs with city views, then why would we seek to limit that?" Mr Hobart says.
Supply And Demand
Source: Contemporary Bedroom by Other Metro Interior Designers & Decorators The Interior Place (S) Ptd Ltd
The average micro apartment in Australia has decreased in recent years from 52-square metres to 44-square metres. Most would assume larger spaces is what makes real estate desirable, so why are these match box apartments in high demand?
A study by Slater & Gordon's Conveyancing Works shows that 18-24 year olds listed proximity to the city when looking for real estate. However, given the current affordable housing crisis, means they have no choice but to opt for smaller apartments.
Affordability is driving development companies to deliver these tiny apartments.
"People look at apartments getting smaller over time and think it's developers being greedy. We work with developers every day.
"It's not about that, but about providing a product that is affordable to the market. If we all did what we love to do and created only luscious things, they'd never get built." Mr Hobart said.
Minimum Standards
Legislation may affect who can own inner-city real estate. New South Wales has a restriction of 50-square metres as a minimum area of an apartment.
Those happy to forfeit space for location may be forced out of the market, by the restriction of minimum standards on apartment sizes. Larger micro apartments are sold at a much higher price then what many first home buyers can afford.
Queensland is content on letting the market regulate apartment sizes, with Premier Campbell Newman expressing his trust in architecture to deliver high quality real estate.
"I certainly don't have a view on us putting constraints on what people can actually build, and I guess I am confident that the industry will deliver product that people want to buy."
"It's amazing what you can do with great architecture and great design in terms of getting costs down.
"I believe in the market and the industry being able to deliver, and I am not generally supportive of regulation," he said.
World Wide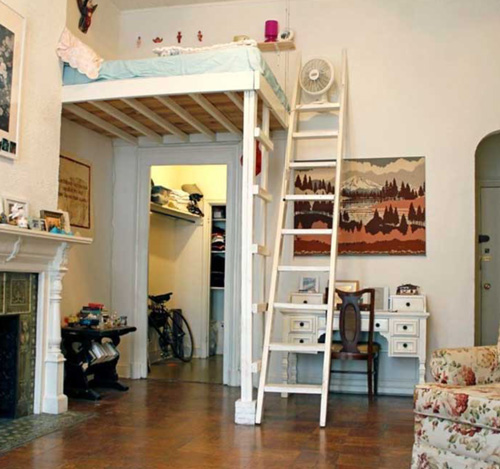 A 42-square metre apartment in New York City
While people might gasp at the thought of living in a 44-square metre apartment, in places like New York City, they have a minimum of 25-28-square metres for a new apartment.
There are many incidences in New York City of people living in apartments as small as 7.2-square metres, and they still carry a hefty price tag of $800 a month.
As one of the world's densest and most expensive cities, Hong Kong has to offer some of the most minuscule of apartments. With families forced to live in 3.7-square metre apartments.
A Chinese development company, owned by the richest man in Asia is constructing a 1,071 unit project. The development, Mont Vert, has apartment sizes that start at 18-square metres and $250 000 in price.
Overall it appears that many are happy to live in smaller spaces if the location and amenities are available to them. So how much control should the governments have over sizing restrictions for apartments?
__________________________________________
 Are you a home owner that has a spare backyard and sick of mowing that awful wasted space ?
Perhaps you're an investor who's looking to increase your rent return ?
If you are either one of the above – then Ipswich Granny Flats wants to talk to you !
 
Call Sonia – 0403 309 136
And let me help you !
Written by
Sonia Woolley
Popular Posts
Recent Blog Posts
Categories