Blog
Know your Home – Passive Solar Design posted on the 16th May 2014
Both Sonia Woolley and Julie Adams, Directors of Vision Property Group
and Ipswich Granny Flats are HIA Greensmart Accredited.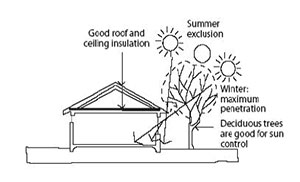 The HIA have produced an easy to read manual as a result of the accreditation offered, and called it 'HIA GreenSmart Home Owner Manual – Living in your Home with an Environmental Awareness'. There is some great content in the booklet, some of which you would think is just so logical, yet most of us don't think to apply it – so we have decided to share some of it with you.
This is the first of several articles which we will feature :
Know your Home – Passive Solar Design
Your home has been designed and built with particular features that if understood and operated as intended could help to reduce the need to artificially cool and heat the home in summer and winter, whilst retaining a comfortable home.
To ensure you maximize the passive solar design features included in your home
consider how to :
Externally shade windows and glazed doors to prevent them from receiving the full exposure of the summer sun
Purge unwanted hot air from the ceiling space and seek to control the movement of heated air by features such as closing off an internal stairwell or entrance void in two storey homes
Open doors and windows located in the house to provide cross ventilation for cooling breezes
Close internal doors and vents to target heating and cooling to areas of the house that are occupied
Check the seasonal setting of any ceiling fans so that they are operating in winter or summer mode as required
Where ducted heating is installed after handover consider the placement of the return air grilles. In both single and two storey homes attempt to place these at ground level on the ground floor
Allow windows to receive winter warmth through removing any temporary shading devicesUse the ventilation systems designed or incorporated into your house to vent steam and hot air in summer
Draw curtains or blinds to retain heated air in the room in winter and reduce entry of summer sun (dependent on constructions materials and climate)
Close windows and doors early on hot days to reduce entry of heated air (dependent on construction materials and climate)
Open up windows and doors (installed with security measures) at night following a hot day to purge heated air
---
The demand for sustainable homes continues to grow. There's now a huge focus on healthier building practices, internal fit-outs, resource efficient products and increased efficiency and less waste. To Download the GreenSmart Guidance Book for information on designing and building new homes and renovation projects, CLICK HERE.
Ipswich Granny Flats only use an architect of some repute for all our Granny Flat Designs. We are proud to say that Russell Wombey is part of our team. Russell was instrumental in the initial ground swell some 40 years ago that started the Passive Solar Movement in Australia. It's one of our unique points of difference – all our Granny Flat Designs are produced by Russell, site specific for your property – no one else's.
NO Donga's or pre-built Granny Flats craned over your house looking like a transportable house with no wheels :
but quality built, built on site and designed by an architect with passive solar principles in place ! What more could you ask for ?
Cheers, Sun 🙂
For further information, call Sonia 0403 309 136.
Written by
Sonia Woolley
Popular Posts
Recent Blog Posts
Categories