Ipswich Property Investment Case Study: 172 Chermside Rd, Basin Pocket
Another success story for Ipswich Granny Flats …
OVERVIEW :
Investment property purchased March 2013
Flat land, full street frontage
Existing post war home (1955), chamferboard with tile roof
708m2 block
30.6.13 Unimproved Capital Value (UCV) of the land $132,000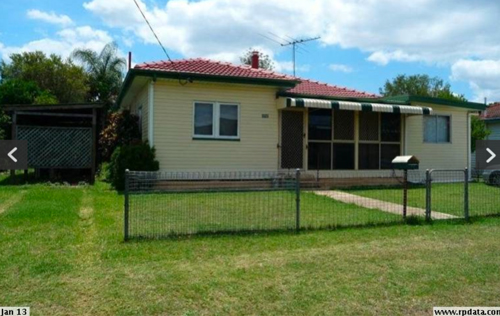 Photo of existing house when current owners bought it
RPData.com
VIDEO DIARY:
DETAILS:
May 2014, the owners of Chermside Road enquired about potentially building a granny flat at the rear of their investment property.
Was the property suitable to build a granny flat at the rear of the property ? This is usually the first question that a home owner or investor asks. After some initial research – yes, it was.
A feasibility proposal was put together and worked through with the clients. Each granny flat project has its own unique features – which is why a cookie cutter approach is not the most sensible way to go. Our own in house architect designs each building using passive solar principles, site specific per property. Good Granny Flat Design doesn't have to cost the earth!  It might be something simple such as extra insulation and no windows on the western facing walls. And getting it right in the beginning makes for cost efficiencies in heating and cooling of the building to name just some of the benefits…
If it's an investment property, from a tenants point of view – this is a great saving to them. As time goes on, from a rental point of view if you have a house that has say no insulation and western facing windows, it can become quite a little hot box – which would soon equate to a high turn over of tenants. By introducing small things such as this in the initial design state, it should attract a better quality tenant as well.
Whilst this particular property doesn't have Character Overlay on it, looking at the surrounding area a good portion of the houses do have this constraint. So on designing a granny flat for the back of the existing postwar house, we decided to stay in keeping with the general style of housing eg. hipped roofline and cladding to match these older style homes.
As a result of the Soil Test, it was determined that foundations should be on stumps with a particular footing system (foundation holes dug, steel reinforcing set into the concrete with an adjustable head).
Once a firm quote was established and all approvals in place, building contracts were signed and building commenced…
  Day 1 : Clearing the site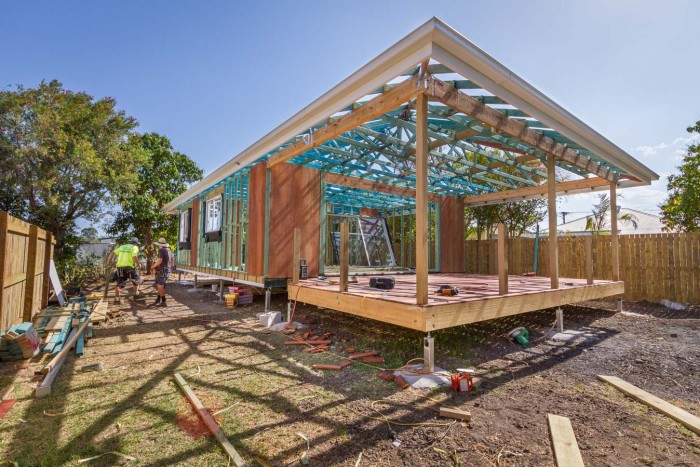 Day 14 : Two weeks into the build, and we are now close to lock up stage !!  YAH!!
Day 63: Paint, Fittings all finished awaiting landscaping.
Finished!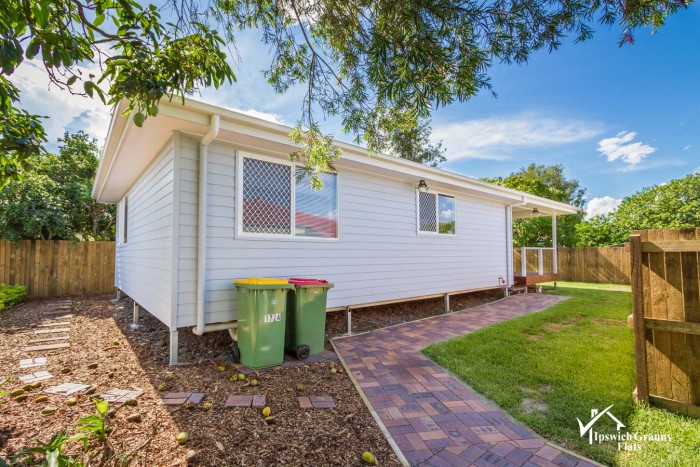 Finished!
TOTAL SPACE :
Granny Flat :             65m2
Timber Deck/Outdoor Alfresco area under roofline : 4m x7m = 28m2
Single Carport :         21m2
TOTAL Area :           114m2
If you look at the numbers :
Purchase Price
Stamp duty + legals

Total

$ 165,000
5,000
$ 170,000

@ $290 pw rent = 8.87% rent return
GF build
Fencing (approx)
Vegetation removal + dumpage
Project Management Fee
Professional Fees & Charges – Approvals
$ 123,200
3,500
1,668
4,950


$     8,575

Total
$ 141,893
@ $285 pw rent = 10.44% rent return
TOTAL PROPERTY COSTS
$ 311,893
Main house (current rent)
$290pw
Granny Flat (expected rent return)

$285pw

Total rent
$575pw
 

Rent PA = $29,900

= average of 9.59% rent return on $311,893 investment
SUMMARY :
All of the above, which is an awesome rent return on a great investment property purchase, and a cost effective granny flat build!
This is a good example of great buying on behalf of the investors!!  A clean up of the inside of the existing house now brings in $290pw rent.  Add to this a new granny flat build, which is expected to achieve a similar rent return = nearly 10% rent return!!
You'd have to be happy with that!!
A Great Success for the Investors
Vision Property Group (Qld) & Ipswich Granny Flats