Blog
Doubling Up in Ipswich posted on the 12th August 2014
Ipswich Granny Flats brings you :
AUSTRALIAN PROPERTY INVESTOR, June 2014 issue
Investors west of Brisbane are taking advantage of town planning guidelines to double their rental income.
Kieran Clair
Australian Property Investment magazine
@kieranclair
It was once intended to be Queensland's capital, but Ipswich is now the western satellite city that's become commuter central for affordable real estate. Ipswich has undergone a makeover during the last past decade. Once thought of as a rough neighbour, there's been a push to create a more cosmopolitan centre with a vibrant feel. Great restaurants, top notch private schools, a university campus and a burgeoning arts scene are all playing their part in building the sophisticated profile of the city.
Ipswich was founded in a rural setting and once you travel beyond the city limits, there appears to be endless strips of land suitable for expansion. The Ipswich City Council (ICC), however, are proactive. They're looking for ways to create opportunities and to boost housing in the more densely populated central suburbs.
Auxiliary units and dual occupancy
Part of the programme includes planning provisions allowing single allotment properties to have double the occupancy. There are two types of development available that investors are homing in on.
An 'auxiliary unit', or 'auxiliary dwelling', is a building used as a secondary residence which is attached to, or associated with, a dwelling on the same lot.
'Dual occupancy' refers to a main structure that holds two functional living areas, like a duplex. These require separate entry at ground level and sufficient onsite parking, recreation space and must meet privacy requirements for the two tenancies.
According to the ICC, a primary difference between the two is an auxiliary unit is currently limited to a maximum of 65 square metres gross floor area (GFA) and will not normally require development approval (DA). A dual occupancy can be greater than 65 square metres GFA, but will require a DA.
Multiple dwelling units on a single title – or 'Granny Flat' provisions as they're popularly known – have been around for a long time, but guidelines have become more accommodating recently, according to Planning and Development Committee chairperson, Councillor Paul Tully. He says Council has been supportive of additional dwelling spaces on properties so there can be a diverse range of housing options for residents, while maintaining affordability and flexibility. They're a great option for housing extra family members, Tully says.
"The current Ipswich Planning Scheme continues to provide for relative's accommodation, either in the form of a dual occupancy or as an auxiliary unit. An implementation guideline also provides further flexibility through the relaxation of dual occupancy development standards where it is intended to accommodate relatives."
Tully says this type of development is suitable in most residential zones as long as they meet planning requirements.
"The development of a dual occupancy requires development approval and the lot would need to be of sufficient size, dimensions and land quality to cater for the use. Normally a minimum area of 800 square metres with a maximum ratio of depth to width of 3:1 would be required.
"An auxiliary unit may be constructed for this purpose without requiring land use approval on most residential lots and limited in size to 65 square metres gross floor area."
Tully says while provisions for both are based around having family members use the space, there's no restriction on having an unrelated party as the tenant – so 'hello investors'! Tully points out, however, you must be careful what you apply for – i.e. don't ask for a relaxation on your guidelines so you can accommodate a relative, and then rent it to an unrelated tenant.
"Development of a dual occupancy will not normally restrict the occupancy options of the dwellings and the dwellings will generally be capable of being separately titled. This is restricted where the development standards have been relaxed based on the dual occupancy being requested and used for the purposes of relatives' accommodation. Similarly, development of an auxiliary unit does not restrict the occupancy options, though the auxiliary unit remains associated with the primary dwelling on the same lot."
Tully says overall, the legislation has achieved its objectives, but they are monitoring for any negatives in their plan.
"As with all regulation, unanticipated impacts can arise. It has recently become evident that auxiliary units are being promoted and constructed as two-bedroom, two-bathroom de facto dual occupancies. In one instance, up to 15 lots in a row were utilised for auxiliary unit products. This unintended increase in residential density could lead to impacts on infrastructure, services and car parking."
Investor benefits
Sonia Woolley, owner of Vision Property Group, says the improved flexibility that came in 18 months ago on doubling living spaces has been a boon for investors. Woolley project manages granny flat constructions for her clients and distinctly remembers discovering the opportunity through a contact at the ICC.
"He said, 'Yeah, we can now do granny flats.' I said, 'We could always do Granny Flats,' and he said, 'No, you can now do them but it doesn't have to be for an immediately family member.' Well, I tell you what – I couldn't get off that phone fast enough to ring Julie (her business partner)."
Woolley says the great advantage in Ipswich granny flat builds is flexibility.
"There's really no minimum or maximum land size. There's no minimum frontage required. There's actually even no requirement that you have to give side access… There's actually no requirement for you to even give them car accommodations."
She says there are some standard guidelines in the planning scheme you need to adhere to like normal setbacks and heights limits, but it's all a matter of designing to both the planning rules, and the tenants expectations.
Julie Adams, property manager and co-owner at Vision Property Group, agrees there are must-haves in granny flat design if you want to secure good tenants.
"They like decks, especially in Queensland and they like the design and the end product to be of good quality."
Adams says open plan, ergonomic design is also appealing, and if you can create a courtyard with fencing, all the better.
"(It's) all about having your own little piece of space for the existing dwelling and the granny flat."
Woolley says the cost of constructing the flat on a standard block with no dramatic slope or services issues would be around $110,000 to $120,000. She says this would be in total, including transfer fees and charges. The cost of buying the parent property in the first place is also very accessible in Ipswich.
"You can still pick up stuff in Ipswich for around $250,000, although our market in the last three or four months has bottomed out and turned around… but you want a reasonable house at the front."
At a total cost of around $365,000, Woolley says the retained dwelling should rent for around $285 per week, while the new flat would get $275 per week. At $560 per week that's a gross yield of eight per cent. Tax depreciation benefits come with the new flat too.
Adams says the flats are popular with particular renter profiles, and demand is good.
"There's single mothers, there's empty nesters, there's grannies and retirees and young, newlywed couples saving up to buy their first home… I've got the no vacancy sign up, and that's a good thing."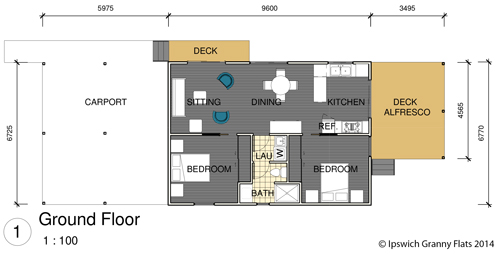 The downsides
The changes in legislation have resulted in a couple of negatives. One is large subdivisions being developed in Ipswich with numerous duplex structures may not stack up in the longer term as supply increases. The push to get double incomes out of a property shouldn't be done with disregard to the normal rules of investment. Ensure both rental returns and capital growth are factored into your considerations.
Woolley says she prefers to see auxiliary properties built on infill sites, as there are plenty of established homes in Ipswich with big enough back yards to accommodate granny flats.
"Do your research. With the way the market is at the moment I would look for infill opportunities. I wouldn't look for housing estates."
David Hyne, a director and valuer with Herron Todd White, says buyers need to realise granny flats can often end up being an overcapitalisation in terms of what value they add to a property in total.
Another factor is "risk ratings". Risk ratings appear on mortgage security valuations and are used to highlight areas that might present added risk to the lender in relation to a particular property or market. These factors are rated on a scale of one (low risk) to five (high risk), with any factor scoring a three having some part to play in the banks deliberations.
"It's a property that appeals to a more narrow market segment in comparison to conventional single-use residential property. Therefore, a 'three' would most likely be selected for the 'market segment' risk rating.
"The other risk is being within an area where this form of development/construction becomes the norm. A higher density of this could also result in the likelihood of a lesser residential location being created."
Granny flat projects are seen as an easy way to boost your income, and Ipswich offers an affordable entry-level price plus good rental prospects, but they aren't for everyone. The big tip is to run the numbers carefully and, whenever possible, visit the location of your new investment. A couple of hundred dollars on an airfare may translate in savings in the thousands.
Click HERE to see a photo gallery and video blog of a granny flat build.
Written by
Sonia Woolley
Popular Posts
Recent Blog Posts
Categories