Case Study: 6 Countess Street, East Ipswich
Another great story from Ipswich Granny Flats, the Granny Flat Experts…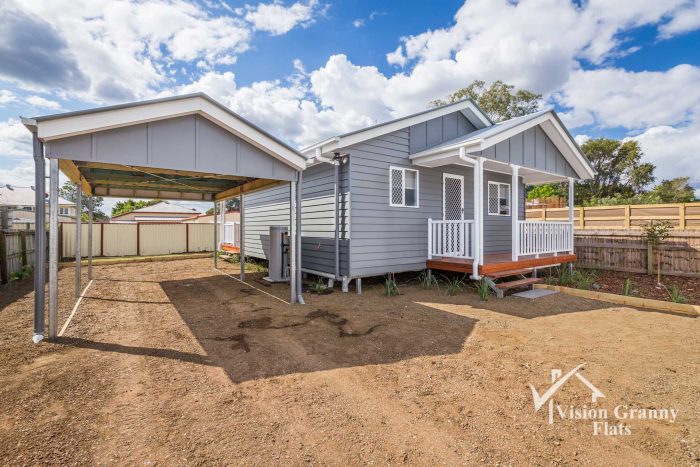 OVERVIEW:
Investment property purchased December 2015
Flat block of land with 15m frontage
Existing postwar house on a 759m2
Medium density zoning
30.6.15 Unimproved Capital Value (UCV) land $120,000

Video Blog – Part 1 – Project Started

Video Blog – Part 2 – The Finished Granny Flat
DETAILS:
These Sydney investors had been visiting Ipswich for about 6 months when we became involved in assisting them to find an investment property where you could build a granny flat. They were looking for investments that were either neutral or cash flow positive and realised the only way to achieve it in this instance was to put a granny flat (auxiliary dwelling) in the large backyard.
These investors have been very hands on during the whole process including some very specific details about the character look or 'Cute Cottage' style down to the colour choice of internal/external paint, tiles even the dividing fenceline! And I'd have to say Mrs E has great taste in her choice…  We all can't wait to see this one finished – it will be very different to anything we've built to date yet!
The existing postwar home at the front of the property has had a bit of a tidy up with a new coat of paint on the outside – and we are using this same colour for the granny flat at the rear. We've never used a dark colour for the exterior paint work, but Teahouse (really dark grey colour) with Vivid White trims is looking Fantastic!
As the existing house was positioned quite close to the front of the property, we had quite a large building envelope to play with at the back. This allowed for a stand alone single carport next to the granny flat. The outdoor covered alfresco timber deck space is also one of the largest we have built to date – 4m x 7m. All facing north, it's this outside area that tenants love. It's light n bright but quite private – something tenants love as in Queensland we tend to live outside 10 months of the year!
The 6' high treated timber fenceline was installed prior to the commencement of building and the clothesline re-positioned making it easier for the existing tenants.
With all approvals in place, building work commenced June 2016 and completed with tenants in place mid August 2016. Check out the video blogs and photos of the build in progress to see first hand how we transformed this property.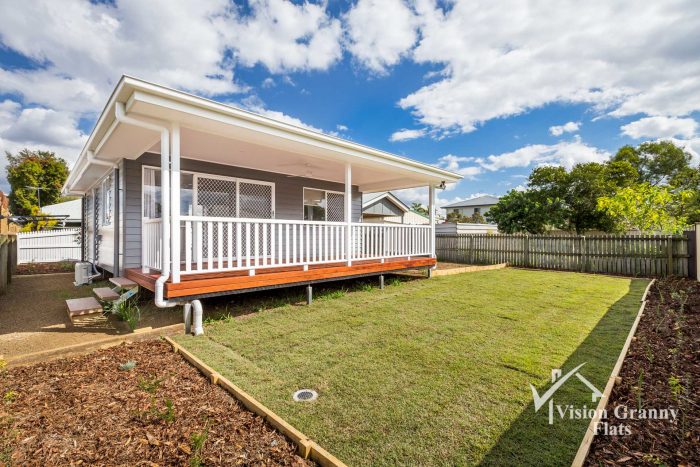 The numbers look like this:
Total Space:
Granny Flat:
Timber Deck / Outdoor Alfresco area
under roofline: 3m x 7m
Front Porch
Single Carport: 3.2m x 5.9m

50.00m2

21.00m2
7.14m2
18.88m2

Total Area:
97.02m2
Purchase Price
$269,000.00
Stamp Duty + Legals (approximately)
$9,665.00
Total:
$278,665.00
@ $285pw rent = 5.32% rent return
GF Build
Professional Fess & Charges – Approvals

$133,726.00
$8,265.00

Total:

$141,991.00

@ proposed $260 pw rent = 9.52% rent return
TOTAL PROPERTY COSTS
$420,656.00
Main house
$285pw
Granny Flat
$260pw
Total rent
$545pw
Rent PA
$28,340
If you average out the two rentals 5.32% + 9.52% = 14.84% / 2 = 7.42%
7.42% RENT RETURN for $420,000
There wouldn't be many investments that could match those numbers – and a new build out of that where you have the first 5 years full capital depreciation on it! You'd have to be happy with that…
SUMMARY:
Awesome rent return on a great investment property purchase, and a cost effective granny flat build!
We have had a number of buyers agents now look at our granny flat product – and they all say the same things: the best granny flats they have ever seen. From design, quality of workmanship to the total end product including the landscaping and professional photos for each of our projects.
It is all about good design – and the great team behind it!!
Are the investors happy – you bet! And so looking to do it again once we have completed this one …
Ipswich & Logan Granny Flats
The Granny Flat Experts
Sonia 0403 309 136