Case Study: 27 Walkers Lane, Booval
Another great story from Ipswich Granny Flats, the Granny Flat Experts…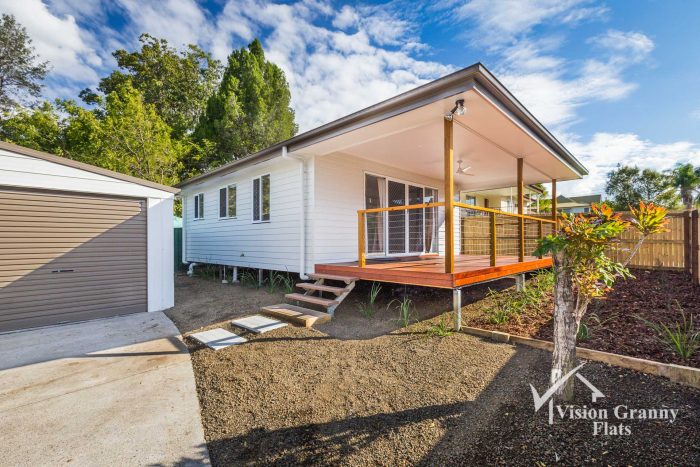 OVERVIEW:
Investment property purchased 2003
Full street frontage on a 759m2 corner block (Enterprise Lane)
Land sloping to Walkers Lane
Existing highset Postwar home : 2 bedroom + sleepout
30.6.15 Unimproved Capital Value (UCV) land $134,000

Video Blog – Part 1 – Project Started

Video Blog – Part 2 – Finished Granny Flat
DETAILS:
These investors have a number of properties in the local Ipswich area and were looking to making them all cash flow positive.  Two of their current investments already have granny flats, and it was really clear to them that in their property portfolio building a second dwelling was the only way to positively gear them.
This particular property has two street frontage and slopes to the road fronting Walkers Lane.  The existing postwar home had a big clean up after the tenants vacated, new fencing was installed on all three sides and the large backyard had a massive cleanup to go with it…
At the rear of the yard, a double lock up garage on concrete slab had been installed a number of years ago.  There was nothing wrong with the structure, but to fit a granny flat to the right hand side of it complete with covered alfresco area, timber floating and ss rails was really, really tight.
There were two very large trees (Leopard tree + Mango tree) that needed to be removed as well but this still left insufficient land to build the granny flat with a nice timber deck.  The team town planner and I made an appointment with Ipswich City Council to ask for a relaxation to the front boundary.  With some supporting arguments to say why we thought it should be granted, it was a negotiated decision that was granted in our favour.
This part of Booval has Mining Influence so a Geo-Technical Mining Report was completed as part of the submission for approvals with the Private Certifiers and Ipswich City Council.
With approvals in place, building work commenced May 2016.  Check out the photos of the completed Granny Flat !
Final Completion one week, tenant ready to move in the next …
The Granny Flat numbers look like this:
Granny Flat:
Timber Deck / Outdoor Alfresco area
under roofline : 3m x 6.6m

50.00m2

19.80m2

Total Area:
69.80m2
Purchase Price
$133,000.00
Total:
 $133,000.00
@ $280 pw rent  =  10.95% rent return
GF Build
Professional Fess & Charges – Approvals

 $131,570.00
$11,400.00

Total:

 $142,970.00

@ $260 pw rent  =  9.46% rent return
 TOTAL PROPERTY COSTS
 $275,970.00
 Main house
 $270pw
 Granny Flat
 $270pw
 Total rent
 $540pw
 Rent PA
 $28,080
If you average out the two rentals 10.95% + 9.46% = 20.40% / 2 = 10.20%
10.2% RENT RETURN ON UNDER $280,000
You'd have to be happy with that!!!
SUMMARY:
From an investment point of view – he's literally just doubled his rent return!
We are now working with the investor to see what we can do with the rest of his portfolio.  A Win / Win for all…
Ipswich & Logan Granny Flats
The Granny Flat Experts